Search News
For the Media
For media inquiries, call CWA Communications at 202-434-1168 or email comms@cwa-union.org. To read about CWA Members, Leadership or Industries, visit our About page.
CWA e-Newsletter: Nov. 6, 2014
Want to be in next week's CWA Newsletter? Send your stories and photos to blog@cwa-union.org or @CWANews. Follow the latest developments at www.resistancegrowing.org.
Working families and progressive activists, determined to get out the vote, made jobs and the economy top priorities at the ballot box. Voters said "yes" to a higher minimum wage in Arkansas, Alaska, Illinois, Nebraska and South Dakota. Boosting the minimum wage won big support in Oakland and San Francisco, Calif. In Massachusetts, voters passed a ballot initiative guaranteeing paid sick leave. We demonstrated that boosting our standard of living is an issue that has overwhelming support on both sides of the aisle and around the nation.
CWA members turned out for 12,000 volunteer shifts and spent the weeks leading up to Nov. 4 talking one-on-one with co-workers, staffing phone banks and canvassing neighborhoods. Across 25 states, more than 4,000 CWA activists knocked on doors, leafleted thousands of worksites and made 100,000 phone calls.
Unfortunately, many of the important issues in the 2014 elections weren't heard, as the $4 billion spent in this cycle produced a staggering number of attack ads and little debate on the major concerns of everyday Americans.
That's why, starting today, CWA activists are turning their attention to stopping the Trans-Pacific Partnership (TPP), a dangerous trade deal that threatens our jobs, communities and the environment. It could potentially give big business new powers to undermine important laws and regulations created to protect us from them.
Kicking off a week of action next week, CWA will join with millions of environmental, community and human rights activists in fighting against "fast track," or Trade Promotion Authority, that would finalize the agreement without any debate or amendments. We'll be demanding that the White House and Congress put its citizens before the corporate and financial interests that already define and dominate the global economy.
We hope that the White House listens to the Democrats in Congress and the populist base. Republicans should also take heed – their activists also oppose fast track and the TPP.
CWA President Larry Cohen talked about TPP with MSNBC host Ed Schultz on Election Day. Watch it here.
This negative election cycle has resulted in Republican control of the House and Senate, but it's clear that the "Party of No" won't provide the leadership and direction the American people want. We will continue to stand up and fight back as we build the new populism of the 21st century.
---
Activists Urge Congress to Say No to TPP "Fast Track"
CWA activists and allies today delivered to Congressional leaders, including House Speaker John Boehner (R-OH), and Senate Finance Committee Chairman Ron Wyden (D-OR), a petition with more than 600,000 signatures opposing "Fast Track" authority for the proposed Trans-Pacific Partnership deal.
A broad coalition of labor, environmental and consumer groups told Wyden, whose committee is writing the rules for fast track – or Trade Promotion Authority – that the TPP deserves considerable scrutiny that would be short-circuited by fast tracking it.
Boxes containing a petition with more than 600,000 signatures of people opposing "Fast Track" authority for the proposed Trans-Pacific Partnership deal.
The TPP, involving the U.S. and 11 Pacific Rim nations, would set rules affecting approximately 40% of the global economy, covering everything from financial regulations and public procurement to medicine patents and energy policy. It is a dangerous trade deal that threatens American jobs, communities and the environment, potentially giving big business new powers to undermine important laws and regulations. Negotiating the deal has been marked by dissension from prospective partners like Japan that want in on the deal but not at the expense of opening their markets to the other partners, especially the U.S. Such disagreements led to negotiators missing previous deadlines set to clinch the deal in 2012 and 2013.
President Obama is traveling to the Asia-Pacific Economic Cooperation Summit, where negotiators had hoped to announce agreement on the TPP deal. At the same time, Congress will be headed into its "lame duck" session with a number of corporate interest groups calling for fast track legislation.
For the #StopFastTrack Week of Action, which starts on Saturday, Nov. 8, and continues through Nov. 14, CWA will join with millions of environmental, community and human rights activists in demanding that the White House and Congress put its citizens before the corporate and financial interests that already define and dominate the global economy. We hope to generate calls, emails and rallies urging Congress to oppose Fast Track for the TPP. Details about the Week of Action can be found online at StopFastTrack.com.
Activists say such bad deals have real, sometimes tragic, consequences, including being a leading cause of population migrations like the one earlier this year that saw thousands of Central American children fleeing violence-fueled displacement in Honduras, El Salvador and Guatemala to the U.S.
Contact your members of Congress, sign up for social media alerts, write letters to the editor and organize anti-fast track demonstrations!
---
What did the most expensive midterm election in history buy? A staggering number of ugly and extremely negative attack ads.
Instead of discussing the issues and policies that could shape the direction of our country, big business and wealthy individuals used their checkbooks to encourage mudslinging. This $4 billion election is just more evidence why we need to get big money out of our politics.
Americans want a real debate. Unfortunately the majority is being drowned out by the minority. A handful of people, corporations and organizations wield an outsized influence over our political process. The New York Times discovered more than half of the ads aired by outside groups this cycle came from organizations that don't disclose their donors. And a new Public Citizen report found that the U.S. Chamber of Commerce was the largest overall spender in the 2014 elections among secret money groups.
Thanks to the Supreme Court's Citizens United and McCutcheon decisions, which have completely warped our political process, it's expected that the 2016 elections will cost in the double-digit billions of dollars. But we can put a stop to this corrupting escalation of campaign spending.
We need the Democracy for All amendment, which empowers Congress and the states to regulate campaign spending, and the DISCLOSE Act. With allies like the Democracy Initiative, activists around the country won't stop pushing for campaign finance reform. We saw what happened during the midterm elections and we vow not to let it continue to spiral out of control.
---
CWA activists across the country worked hard on get-out-the-vote efforts in the run-up to Election Day. CWAers phone banked, knocked on doors and sent out mailers to help support candidates dedicated to helping working families.
CWA Local 3201 activists met members the weekend before the Georgia races.
~~~
CWA's Angela Ritch walks door-to-door for Rep. Nick Rahall (D) in West Virginia.
~~~
CWA Local 3218 President Ed Crumley talks to his members about Georgia Senate candidate Michelle Nunn and gubernatorial candidate Jason Carter.
~~~
Local 3108 members David Santiago and Shantele Bennett go door-to-door for labor endorsed candidates.
~~~
Abdullah Yar, a CWA Local 9400 member, calls members on behalf of Rep. Ami Bera (D) in California.
~~~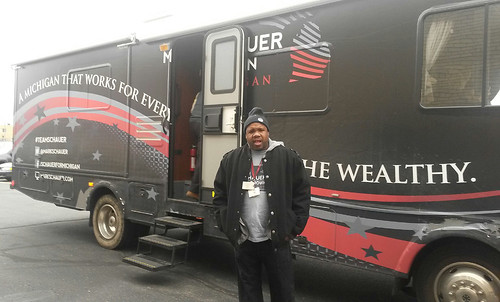 CWA LPAT activist Tony Ide at a Mark Schauer for Michigan Governor event.
~~~
Alberto Hernandez of CWA Local 1082 gave out sweatshirts before an Election Day labor walk in New Jersey.
---
63 Cricket Retail Employees Get a CWA Voice
Cricket mobile retail workers at nine stores in Kansas and Missouri have joined CWA. Cricket, a prepaid wireless provider with 1,000 workers at 170 locations, merged with AT&T Mobility; that means CWA's organizing rights agreement with Mobility now applies to Cricket workers nationwide.
Leaders and activists from CWA Locals 6300, 6327 and 6402 visited stores, distributed information and answered workers' questions; the Cricket workers signed up in just seven days.
---
Verizon Wireless's anti-union campaign, including an intense campaign of management intimidation, has been inescapable so workers are taking matters into their own hands with clarity and solidarity messages of their own.
---
Sign up now for the next CWA town hall call on Thursday, Nov. 20, starting at 7:30 pm ET. The call will last half an hour.
Register at http://cwa-union.org/cwacall and pick up the phone when you get the call.
---